What's New?
October 2011
Some of you may have noticed our new look. We have also added several publications - especially several new "Family History" books.
In the past, most of our publications have been a straightforward compilation of records to assist genealogy researchers. Types of records included delayed births, deaths, out-of-county deaths, and marriages.
Our new "Family History" books concentrate on a specific family line. We begin with a particular ancestor and list the descendants.
Send Us Your Comments
We, Winston A. and Merrell Jenkins Riddle are both natives of Western North Carolina.
Since our retirement a few years ago, we have had the pleasure of meeting many, many cousins.
We invite you to send comments, corrections, and/or additions.
Winston A. Riddle
Merrell J. Riddle
rge@wncfamilies.com
Find Your WNC Roots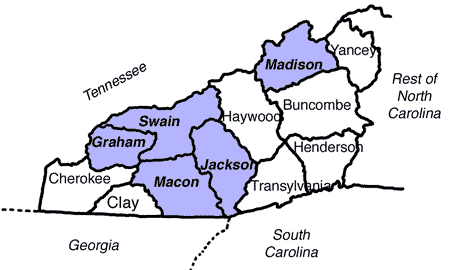 Our research emphasizes the WNC counties highlighted in blue.
If any of your ancestors lived here, we may be able to help you research your family history.
We have published over 33,000 50,000 52,000 records on these counties. And over 3600 3700 4700 surnames.
And more are on the way!
Customers in Most States
We have shipped to individuals and/or libraries in the states marked in blue - 29 states and the District of Columbia.
We want to "color in the map"!