What's New?
2015 LeQuire/Luquire Reunion
July 11th in Maryville, TN
For the fourth time the reunion will be held at the home of a LeQuire descendant. Wayne LeQuire of Maryville, Tennessee is again graciously opening his home to us.
We are excited about the event and hope you can attend. Learn the latest about the LeQuire/Luquire DNA project. If you have family photos, history, or other items of interest, please bring and share!
The book, LeQuire Family of Western North Carolina, will again be available. Additions and/or corrections to the book will be appreciated.
Find Your WNC Roots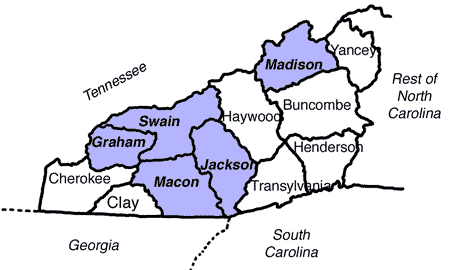 Our research emphasizes the WNC counties highlighted in blue.
If any of your ancestors lived here, we may be able to help you research your family history.
We have published over 33,000 50,000 52,000 records on these counties. And over 3600 3700 4700 surnames.
And more are on the way!
Customers in Most States
We have shipped to individuals and/or libraries in the states marked in blue - 29 states and the District of Columbia.
We want to "color in the map"!